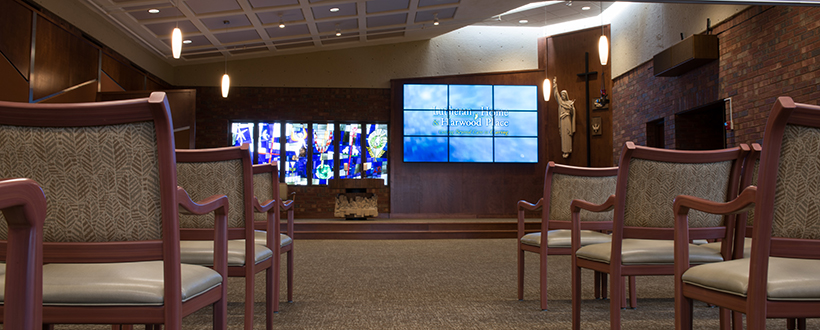 Caregiver and Spiritual Support
We are all faced with moments in our lives where we rely on the support and guidance of those around us. At the Lutheran Home and Harwood Place we provide this support to our residents and families through our Spiritual Support team (Chaplaincy) and  the greater community through a Caregiver Support Group.
The Caregiver Support Group is sponsored by the Southeastern Wisconsin Chapter of the Alzheimer's Association.
The Caregivers Support Group is a mutual self-help group that strives to offer family caregivers continued help and assistance when needed. The group is currently on hold due to the pandemic.
Spiritual Support
The Lutheran Home and Harwood Place serve people of all faiths with compassionate spiritual care that honors individual preferences within a supportive community.
Worship Services
Lutheran Home and Harwood Place chapels provide a variety of worship opportunities  Sunday mornings and during the week. Sunday morning services at the Lutheran Home are simulcast to rooms through the in-house TV network.
Spiritual Support Groups
Bible studies, prayer groups, and Rosary groups are available during the week to support mental, physical, and spiritual health.
Volunteers
Volunteers receive training to offer emotional and spiritual support through one-on-one visitation with residents in their rooms.
You may contact Chaplain Derek in the Chaplaincy Department at (414) 258-6171 x 349.