Adult Day Care Service

Lutheran Home | Wauwatosa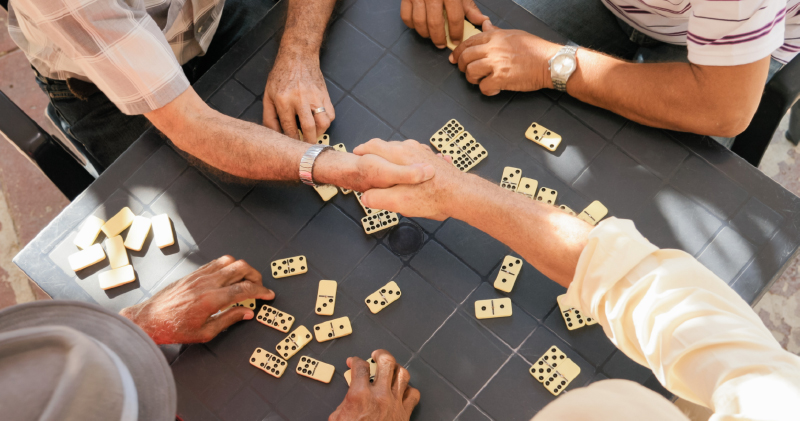 Adult Day Care Services at the Lutheran Home is committed to providing comprehensive daytime programming and supportive services that allow individuals with irreversible dementia, advanced age or physical disabilities to reside at home with their loved ones. Our primary goal is to keep our participants engaged in stimulating activity programming and community inclusion while maximizing their safety in a secure environment. Our program also provides at-home caregivers a break in caring for their loved one and time to attend to their own needs. We understand the difficulties caregivers encounter and offer resources and support.
If you need a break, and your loved one needs compassionate day care, call us today to schedule a tour of our daycare facility. Whether you need senior day care services, help with a disabled loved one, or need daycare for Alzheimer or dementia patients, the Adult Day Service at Lutheran Home is here for you, and them. We proudly serve families in Wauwatosa, Milwaukee, Brookfield, and surrounding areas.
Private Pay/VA/Title 19/Iris Payments Accepted
Learn more about Adult Daycare and Service provided.
HOURS OF OPERATION:
The center is open from 7:00 a.m. to 5:30 p.m. Monday through Friday. The center is closed on New Year's Day, Memorial Day, 4th of July, Labor Day, Thanksgiving Day, and Christmas Day. On days of inclement weather, the center will remain open.
ABSENCES OR CANCELLATIONS:
Seven days' advance notice is required for any changes in the participant's schedule or planned events such as days off, vacations, or extended leaves. Please also notify the team in the event of participant hospitalization or illness.
HEAR WHAT FAMILY MEMBERS HAVE TO SAY
"The Lutheran Home Adult Day Center has made a world of difference! It has made my day easier.  I drop mom off knowing 'they got this', she'll be watched and attended to. It brings me so much joy knowing she is around her peers in a peaceful and calm setting."
LEVELS OF CARE AND ADDITIONAL SERVICES:
Each participant in Adult Day Services will have a personalized plan of care. Information is gathered from the participant and their family, and a nurse assessment is completed to determine a level of care.
Participant care plans are reviewed quarterly and/or if there is a change in condition requiring additional care.
Level One
Participants are independent and only need minimal assistance from staff for personal care needs such as bathroom assist, transferring, and medication administration. They are able to participate in and benefit from a wide range of activities.
$79/day
Level Two
Participants require assistance in several areas of personal care, including, but not limited to, bathroom assist, transfers, and medication administration. Participants may require one-on-one intervention due to confusion and may require additional health monitoring by the center's nurse.
$82/day
Late Fee
Participants not picked up by 5:30 p.m. will be charged $20/10-minute
increment they remain past the 5:30 p.m. closing time.
ADDITIONAL SERVICES:
Spa Bathing
Participants can enjoy a whirlpool bath in the safety of our spa room. Assistance is provided throughout the experience, including grooming and dressing. A skin evaluation is also completed to monitor skin integrity.
$35/bath
Shave
Participants who need assistance with facial shaving.
$11/shave
Beauty/Barber Shop
Participants have access to the beauty/barber shop at the Lutheran Home. A schedule of services is available from the program manager and are billed per service.
Therapy Services
Participants have access to physical, occupational and speech rehabilitation services
provided by the therapy team at the Lutheran Home. Rates are based on service.
NOTES:
– 2 day minimum requirement per week
– vaccination against COVID
– Private Pay/VA/Title 19/Iris accepted