Offered discretely in the comfort of your apartment, our custom services can provide you with a wide range of healthcare and concierge services.
OUR PHILOSOPHY
At Harwood Place, we are committed to supporting you to live your best life possible with peace of mind. Our health and wellness services were born from the concept that the right services provided at the right time can keep you healthy and active. Our goal is for you to live independently, safely and comfortably in your community.
Basic Services Include
» 24-hour access to on-site nursing staff
» Emergency response pendant
» Daily wellness checks
» Coordination of care with your physicians and specialists
» Health monitoring
» Biannual wellness assessments by a registered nurse
Nursing Services Include
» Assistance with activities of daily living
» Assistance with ambulation, mobility, transfers
» Toileting/bathroom assistance
» Incontinence support
» Medication management
» Medication administration including injections
» Catheter and colostomy care
» Assistance with glasses and hearing aids
» "Bounce Back" care after rehab or another life event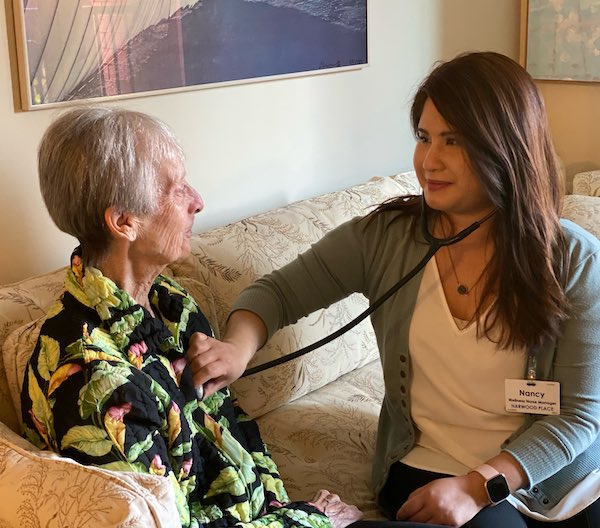 Hospitality Services Include
» Specialty housekeeping
» Additional housekeeping
» Laundry or linen change
» Homemaker services
» Social & Wellness Coordinator support
A La Carte Services Include
» Consultations with a registered nurse
» Assistance with bathing/showering
» Earwax removal
» Ear or eye drop administration
» Injections
» Wound care/treatments
» Medical setup of pill organizer
» Pacemaker interrogation
» Personal training with our Wellness Coordinator
Concierge Services Include
» "Personal assistant" to help with variety of tasks
» Maintenance services
» Housekeeping concierge services
Care Teams
Services are catered to your needs and recommended through an assessment with our nurses. Our nurses, nursing assistants and therapists work together with your primary care provider and specialists to offer a high level of clinical expertise.
If you would like to learn more about our custom services or living at Harwood Place, please contact RN Wellness Manager at (414) 727-3712.
Learn more about Harwood Place…