Free 2-Hour
Caregiver Dementia Education Workshop
The workshop is specific to family and friend caregivers of someone with dementia.
Topics Include:
Dementia and the differences
Early, moderate, late-stage dementia
Communication and making the most of your visits
Techniques used to interact with someone with dementia
Caregiver struggles and taking care of yourself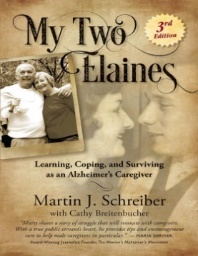 Everyone will receive the book My Two Elaines by Marty Schreiber.
Other resources will be available at the workshop.
FREE 2-HOUR Workshop
CAREGIVER Dementia Education
Upcoming Classes
Saturday, March 18th
9am-11am
(Elaine's Hope)
Thursday, April 20th
5:30pm-7:30pm
(Elaine's Hope)
Saturday, May 20th
10:00am-12:00pm
(Elaine's Hope)
Class Locations
Elaine's Hope Community Room
7500 W. North Avenue
Wauwatosa 
Harwood Place Senior Living Community Room
8220 Harwood Ave.
Wauwatosa
Seating limited to enable social distancing.
Sign up today!